FALCON et FÉE NOIRE ! Fée Noire de la Vallée des Sortilèges et du Ribaudeau - Juoda Féja - Belgische Herdershond Groenendaler ! Black Fairy Belgian Shepherd ! TYPE de CHIEN CHIENNE DE TYPE BERGER BELGE - GROENENDAEL - FALCON = OISEAU FAUCON ! RAPACE LA PLUS VITE AU MONDE DES ANIMEAUX SUR TERRE ! UN ANGE ! ANGEL ! ANGELAS !

FALCON FERGUS DAKOTA de DAKOTA, Z KOVARNY et DARK BRIGHTNESS ! BELGU AVIGANIS !
site web eleveuse marche plus depuis ETE 2013 elle continue offline sur faceboook etc http://www.dakota.aiva.lt/ FALCON and FERRARI FAST DAKOTA BREEDER IN LIETUVA LITHUANIA BALTIC SCANDINAVIE ! NORTHERN EUROPE - CENTRAL EVEN ! the eGeographic Center of Europe according to French Cartographers is just outside capital VILNIUS ! LIETUVA ! LITHUANIA ! LITAUEN ! LITUANIE !
FALCON BIRD, Belgian Shepherd, Groenendael, Dog, Puppy = Sakalas Paukštis, Belgų Aviganis, GRIUNENDALIS, šuo, šuniukas
Nana Obcarskaite, FALCON (Faucon) et FEE NOIRE ! et puis Nana et Falcon...
Monday morning - Rytas - Lundi Matin 9th May 2011 - FEE NOIRE et FALCON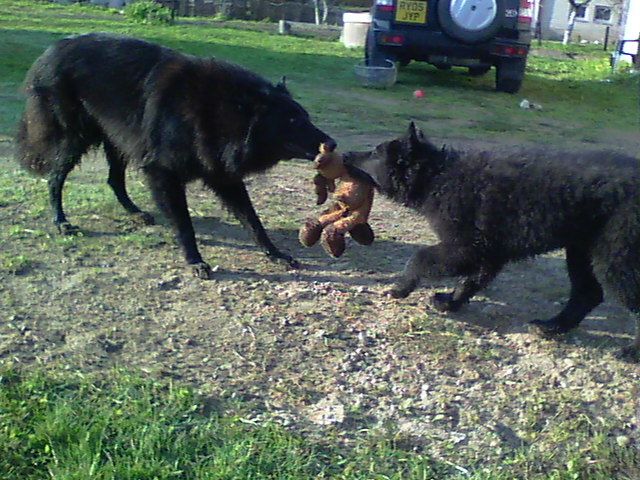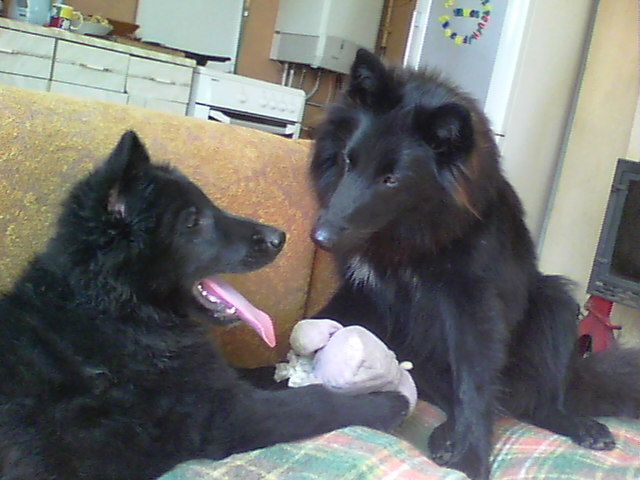 Falcon - OUT OF THE DARK !!! AND INTO THE LIGHT ! as sang Austrian Rap etc. singer FALCO ! Faucon, l'oiseau lumière...the bird of LIGHT !
music to play while you are looking at pictures and reading...if you like it ! music a ecouter pendant que vous regarder...si vous aimer !
Wikipedia, the free encyclopedia A falcon is any species of raptor in the genus Falco. The genus contains 37 species, widely distributed throughout Europe, Asia, and North America.
PEREGRINE FALCONS have been recorded diving at speeds of 200 miles per hour (320 km/h), making them the fastest-moving creatures on Earth !
La plus grande vitesse d'un animal/etre vivant sur terre ! pardon dans le CIEL ! je regarde le CIEL ! alors du monde !
le voila ! FALCON ! FAUCON ! le messager des Dieux. Il symbolise également la Majesté Divine, la supériorité de l'intellect sur le physique, et du spirituel sur le matériel.
The Black Falcon (Falco subniger) is a medium-large falcon that lives only in Australia. It is mainly found in open grasslands and woodlands in the semi arid inland parts of Australia. First year falcons are a dark black in colour fading to browner black in successive years. It is fast flying for its size with tapering, pointed wings.
The females are usually around 55 cm (22 in) from beak to tail, the smaller males being only 45 cm (18 in). The sexes are very similar apart from their size. They are comparatively lighter in build than Peregrines with a slightly wider wingspan and longer legs. They are more agile on the ground than Peregrines though less so than Brown Falcons.
Its relationships are enigmatic, like with many falcons. It might be an early offshoot of the Old World hierofalcons such as the Saker
Falcon,
The Black Falcon's prey is mainly birds such as quail, various parrot species, finches, magpies, crows, starlings etc. It often takes prey on the wing either in the stoop or stooping into a chase. It also eats ground-dwelling animals such as lizards, rabbits, rats, mice and small marsupials. It is well known as a pirate of other species of raptors such as Harriers, Kestrals and Kites. They will often hunt at the edges of bush fires for fleeing prey. Females have been observed killing Perigrine Tercels and vice versa in areas where the two species compete for food. The Black Falcon is one of the few falcons which have been observed eating carrion. Black Falcons are nomadic over most of their range usually following quail. Unlike new world Falcons Black Falcons do not aggressively defend their nests from predators. Their decrease in number can largely be attributed to predation of nestling falcons by introduced feral cats.
The Maltese Falcon (1941) is one of the most popular and best classic detective mysteries ever made, and many film historians consider it the first in the dark film noir genre in Hollywood. It leaves the audience with a distinctly down-beat conclusion and bitter taste. The low-budget film reflects the remarkable directorial debut of John Huston (previously a screenwriter) who efficiently and skillfully composed and filmed this American classic for Warner Bros. studios, with great dialogue, deceitful characters, and menacing scenes.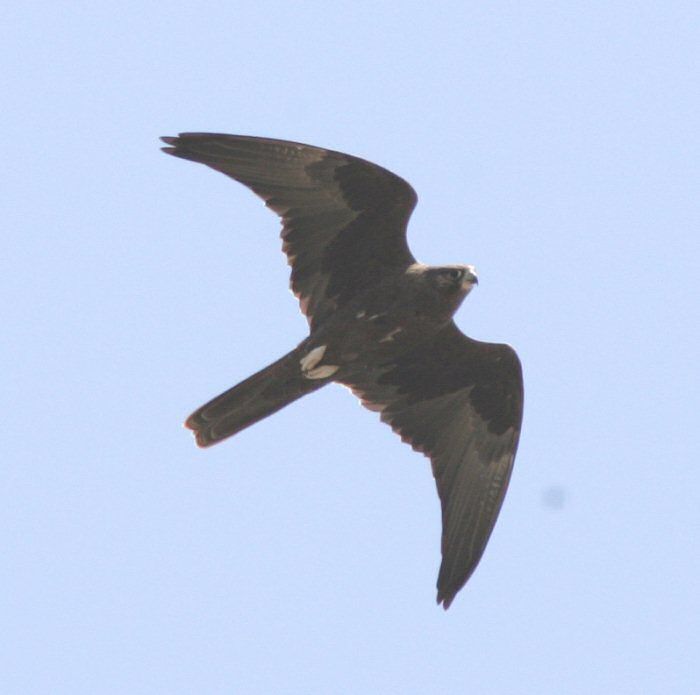 les LEGENDES ! le MONDE DES FEES ! IMAGINATION ! et bien...
The following a some of the general mythologies & stories, not related to specific species. Where there are any stories related to a specific species, these will be found on the page for that species. As with other confusions between hawks & falcons, sometimes the myths about falcons can also be related to hawks.
---
In Ancient Egyptian mythology, Horus, the God of Lower Egypt appeared in the form of a falcon (or hawk), whose right eye was the sun & left eye was the moon. It was believed that the reigning king was the earthly incarnation of Horus. The kings were often depicted as falcon headed. The Sun God, Ra, was also depicted as being falcon headed.
---
In Norse mythology, Freyja, the goddess of love, fertility & sexuality and the guardian of the dead, is associated with falcons. She used a falcon feathered cloak to travel between the mythological worlds, taking the form of a falcon.
A falcon, called Vedfolnir, sat on the beak, between the eyes, of the wise, all-seeing eagle on the topmost branch of the "world tree", Yggdrasil. The falcon reported on all that it saw in the heavens, on earth & below, to Odin.
---
In 1405, the Isle of Man was given to Sir John Stanley by Henry IV on condition that he paid homage to him & gave him two falcons & similarly to every future King of England on their Coronation Day. This tradition continued for over 400 years, until the coronation of George IV in 1822. A falcon appears as one of the supporters of the shield on the Isle of Man coat of arms.
and now...we have ? the BLACK FALCON FERGUS DAKOTA ! Belgian Sheepdog, Shepherd ! BelgischeHerdershond ! age 10 weeks old 1st May 2011 born 21 Feb 2011 Lithuania.
AND FALCON IS ON THE PEDIGREE DATABASE WITH PHOTOS OF HIS ANCESTORS...a photo to be added...and updated...belgi pedigree and photos of ancestors
FALCON FATHER = MULTI CHAMPION HECTIC HERTZ OF DARK BRIGHTNESS BORN/NEE IN THE NETHERLANDS/PAYS BAS...BALL SPORT LITHUANIA...
FALCON MOTHER = NADINE BLACK Z KOVARNY BORN/NEE IN CZECH REPUBLIC...CACS and RCACIB as well as Youth Winner...
HAVE PRODUCED...FALCON FERGUS DAKOTA !!! here age 6 weeks old !
FALCON age now 2 months old May 2011 !
Falcon with his favorite plush toy present from Ms. Inga Nikonoviciute...breeder...a glove mole ! a digger !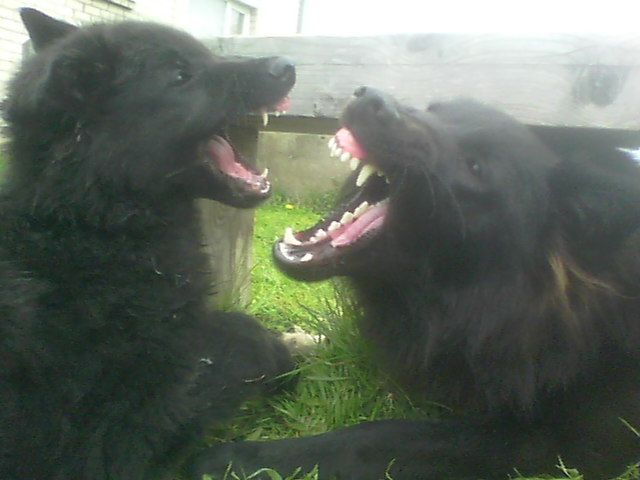 FALCON on the left facing FEE NOIRE on the right ! 2 months old and 14 months old !
Here is Inga Nikonoviciute of DAKOTA Lithuania his breeder !http://www.dakota.aiva.lt/ holding Falcon and Ferrari brothers !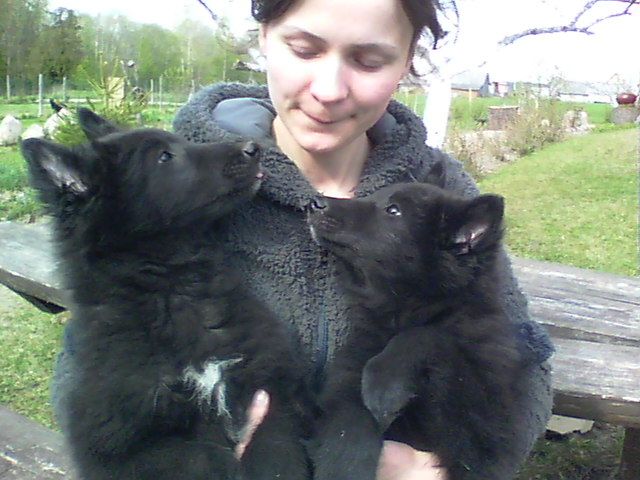 and her mother ! facing a pack of Black Devils nearby !
and just quickly a FEW HORROR VIDEOS !!! I sent email...after 3 days...saying ? I WANT MY MONEY BACK THIS IS A WOLF !
http://www.youtube.com/user/emokalamick?feature=mhum#p/u/3/jMu7vzQPx9M Little howling wolf pup !
http://www.youtube.com/user/emokalamick?feature=mhum#p/u/0/4OZJvSd0lnw Falcon playing with Fee Noire !
and a DEFIANT PUPPY TO NEW OWNER OVER A BALL ! http://youtu.be/XLqFooRt0l0
barking at a bone ! http://youtu.be/VklUSxQi_eU and http://youtu.be/w3K-XAOZ1DY
and playing NICELY fetching a ball eventually ! http://youtu.be/l-OM9Oagvr8 http://youtu.be/l-OM9Oagvr8
quick narrative - before essentials forgotten...to expand ! with photos ! more videos...
The flight of the FALCON ! narrative...of first few days essential points !

Well, the journey of nearly 3000 km to FALCON thinking of FERRARI was longer than usual due to a burst tyre 12km outside of Lyon city on motorway.....i had forgotten the security key for bolts on the tyres and jack...so the car had to be lifted and carried to special garage....2 new tyres later, always best to change both tyres on one side...we were off again with many dog-play stops to relax FEJA who as usual barked madly at everyone and everything near us in :POLAND where of course you need to buy special cards to use public phones and language and purchase is a difficult matter.
Arriving in Lithuania lack of signs at UKMERGE for MOLETAI once 1 sign used meant we were on way to VILNIIUS at 8pm at night so rang to say see you tomorrow ! but by 3am in the morning Sunday / Monday morning we found IGNALINA ! and a few hours later we found the necessary village nearby and waited for Inga who drove to us to lead us to where to see the dogs.
on arrival into the house a largish black ball of fluff rushed up to me for attention...this is FALCON ! Ferrari stood behind him looking at me. That was the end of discussion about FERRARI for me ! not being used to such AFFECTION I was quite happy with him ! but then there is little to choose in my opinion between such puppies who rush up to greet you all happy bundles of fluff ! I did not pay them much attention at all i must say talking to Inga Nikonoviciute and looking at the adults more...just like i did when i went to visite FEE NOIRE...and breeder Inga Nikonoviciute said FALCON was calmer than FERRARI so maybe better suited to my HYPER ACTIVE FEE NOIRE ! who was her usual speed self rushing around !
FEE NOIRE proceeded to do her usual racehorse rushing around to tease the pack of other dogs behind a fence who were barking mad and running along also excited by her....FEJA was less provocative when this pack of black devils entered the house into 1 room ! she got up on the settee and stayed there looking at them all !
A shower coffee tea and meal later the day flew listening to dog talk from Inga Nikonoviciute whose English certainty was fluent enough for me.
Now on arrival to Garlic FEE NOIRE looked intently at this new puppy not very interested until...suddenly ! day 3 ! on THURSDAY MORNING ! this FALCON decided to join FEE NOIRE in a BARKING AT A MAN session ! he smelt of alcohol which FEE NOIRE detests...well the little 10 week old puppy was barking strongly copying FEE NOIRE at the man. A few minutes later, FEE NOIRE initiated play with FALCON outside on the grass ! and they now sleep next to each other etc. happily friends.
Of course FEE NOIRE had to have ANAESTHETI|C at the Veterinary surgeon and stitches in 1 paw after a dogfight with LAIKA who was terribly stressed by a visit into town frightened lying down refusing to move and when on a short lead laika had to watch without being able to join in FEE NOIRE rushing around in and out of the lake etc. after the ball...she snapped...the 2 dogs locked together and bit....FEJA had her paws cut deeply...so in pain and difficulty walking a few stitches to one bad cut which will take 2 weeks to heal vet said. Painkillers injected again Saturday morning and revisit Tuesday again.

Raimundas JONCAS Veterinarijos - Garliava - Kaunas - Lietuva
Vytauto gatve 38, Garliava, Kauono raj. tel: +370 8 37 552371 Mob: 8 624 83491
email: El. pastas gattoraimis@gmail.com
I asked, what is happening ? an injection and in a minute FEJA was unconscious ! o ooh he said...not speaking English at all so translated by cousin wife Erika...it is a NARCOSSIS ! well I thought ! drugs for dogs ? then later back at the house Erika said it was ANAESTHIC ! or word like that....FEJA was given 2 injections after the operation to wake her up...she came around in 20 minutes...very sleepy confused....and showed her teeth at little FALCON for coming close to her head while lying down....so i kept him away from her a few hours.
Then FEJA and LAIKA played together happily...vet said DO NOT LET FEJA near LAIKAS they are hunting dogs and dangerous...and CERTAINLY keep FALCON PUPPY well away from Laika ! so ? FEJA ignored the vet advice....as the video will show here. The biting was due to extreme stress of Laika, unusual, not stressed in town by car alarms people cars etc. laika and feja are best of friends. FEJA is certainly NOT afraid of Laika. She just had an accident.
well, rabbits re-vaccinated - every 6 months so next time in November the babies of Napoleonne are perfect papillons ! all of them ! 1 black and white and 2 blue-grey and whites ! Cleopatra produced 1 albino white and 4 grey-blues...no perfect papillons...but the smoky blue colour is beautiful and already a friend of Erika wants one of Cleopatra's babies...which are half the size of Napoleonnes ! All born just 2 weeks ago ! so ! at age 1 year old French papillon rabbits produce !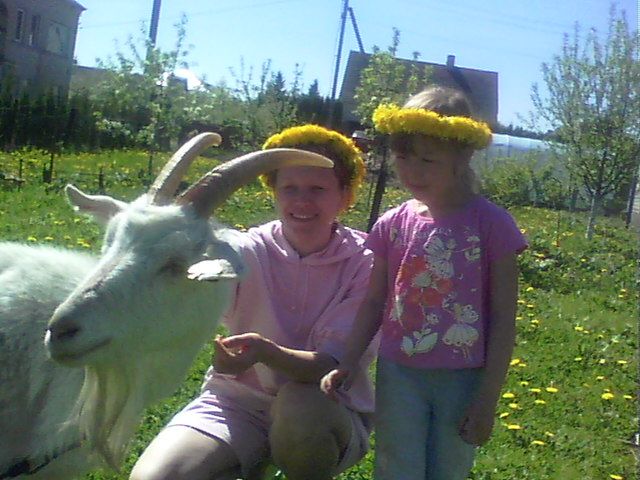 Now a HUGE BILLY GOAT name CESLOVAS like my uncle is in a yard by himself ! very friendly ! no corns ! one female goat is pregnant the other one waiting to see. They can get pregnant each month goats. Takes 4 months for babies to be born and 2 years before they produce.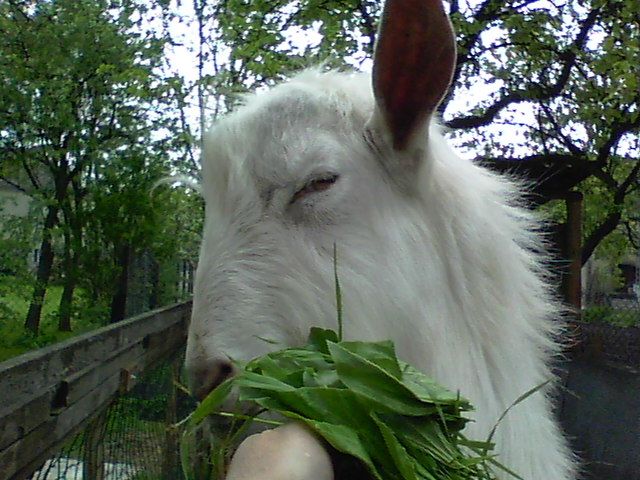 FALCON is a little HOWLER ! he likes to HOWL at the door if left alone ! he follows people easily happily. Sits down often. Comes back to sit in the entrance door porch by himself often. Just sits there looking around calmly.
He GROWLS also ! at FEJA when he was chewing a stick and she put her nose to it ! and at ME ! for trying to TAKE HIS BALLE OFF HIM ! he does NOT run and fetch it back to me ! he did to DOVYDAS last night however. He loves pulling toys making them squeak and pouncing on them like a cat. He BURIES unfinished raw chicken from his dish ! he BURIES the BALL outside also !
FALCON is an EASY and BIG EATER ! first thing in the morning, 6am he is ready to eat ! 2nd day he managed to climb up on the beds and settee. He prefers to sleep on the floor however, his head on my foot.
So. It seems FEJA is VERY PLEASED to have a PLAYMATE ! and FALCON is very pleased to attack her often jumping with paws on her back rushing off and STALKING her like a CAT to attack again from under cover of chairs or benches !
He does NOT charge around fast as FEJA used to at his age. HE WEIGHS 9,6 KILOS as of yesterday Tuesday ! amazing ! heavy puppy ! FEJA weighed only 5 kilos at his age !
FALCON ears are almost both standing upright...a little floppy and tight together when up above his head often...and he has a small white line up to his chest central and a very small amount of white on tips of toes of his 2 back paws. Falcon has a strong head compared to finer thinner head of FERRARI I noticed. I do not see much difference in attractiveness of puppies however i must say. They just look like fat little bundles of black fluffy hair with awkward walks ! all the same to me !
He does not startle at any noises. The vacuum cleaner did not even awake him, whilst FEJA hates this machine and looks very unhappy when she sees one ! she does not rush off but if she sees a door open to somewhere else she goes out of the room and looks back at it while it is hoovering !
FALCON barks at barking dog LAIKA in the garden. He does not approach her, or the goats, but when she barks at him he returns the barks. He quickly starts barking and rushing alongside FEJA when she starts her guarding barks at people she sees in the distance, and FALCON stares barking at them also.
He like to bite, pulling at clothes, trouser legs as i walk around often. Sharp needle little teeth...i cam careful not to pull on them when he has a grip on my trousers and i am walking. He bites and tries to chew my hands also, digs his teeth into them, but not very hard. Less hard than FEJA used to do when his age ! and STILL DOES ! with ADULT PAINFUL TO ME TEETH ! many a time she gets a whack for a hard bite on me demanding attention from me !
When i went shopping, FALCON went into the children's room on their bed to sleep. PUPPY FALCON DOES NOT LIKE EATING OUT OF A DISH ! HE TIPS HIS FOOD OUT ONTO THE FLOOR AND EVEN TAKES IT AWAY TO EAT ON HIS RUG AND BURIES, HIDES ANY UNEATEN FOOD...NOT POSSIBLE OF COURSE WITH SMALL DRY FOOD PIECES...WATCHE THIS BARKING PUP !
OOOOH ! he is HOUSE TRAINED ALREADY ! FALCON has chosen the BATHROOM to SHIT AND PISS in ! he marches off there out of the living room and comes back when finished ! does not lift his leg i noticed like adult males yet ! Maybe he smells human eliminations there, or saw me going to the toilet there ! lol !
So, Summary of 1st few days of a new 10 week old puppy in a new place ? well VERY CALM and CONFIDENT even though he was sick a bit in the car but so was FEJA i add and she is adult, was a rough ride for a few hours to KAunas Garlic..he did not WHINE or CRY at ALL the 1st or ANY first nights ! no pantomime to continue playing as FEJA did the first few days !
1st car journey of a few hours from breeder to kaunas in Lithuania - sat and slept mostly on the back seat besides FEE NOIRE who was surprised a little by him walking on her a few times but FEJA put her head between the seats onto my lap and ignored him sleeping herself as she does not like car trips. We stopped once for a wee for the dogs - he did not do anything i add but it gave him a break and a walk in woods he enjoyed happily coming back to me. No signs of nervousness, alert, walking with tail wagging. On arrival FALCON was not intimidated by several new strange people - 2 children - fussing over him - he wagged his tail chased around clumsily on his puppy paws and legs and went easily to sleep without a whimper on the floor. For 2 nights he found a cool spot on the tiles to lay stretched out and sleep...it is heated indoors i add so probably more uncomfortable temperature for the dogs even than it is for me. FEE NOIRE slept also as she does in strange places on the floor...but fussed enormously recognising the people she had spent s few weeks with here last year. Was delighted to re-meet LAIKA who also seemed delighted and recognised FEJA. barking and greeting her wildly with enthusiasm.
The deep cut paws are a problem for FEJA being able to walk or run comfortably for the next 2 weeks. The vet will look at the deepest cut paw on Saturday but said to keep it dry not leave it wet and let the wound get air not enclosed in plastic for long - and anyway the plastic comes off paws easily if sellotaped or medical taped on top of the bandage wrappings so not easy to protect her paws or feet as a dog naturally is energetic when moving on paws. FEJA still attempts energetic play with FALCO and LAIKA for ball fetching but we do not throw it more than 1 meter away even though it frustrates her as I do not wish her to walk too much to allow the wounds on her paws to heal. However, as always when in pain, FEJA shows her kind and unaggressive nature again, not being aggressive to a new puppy who is jumping on her often, and even playing with him now. FEJA never reacts aggressively in defence of her pain towards humans i add of course. Is always making an effort to be pleasant and joyful wagging her tail and struggling to come to greet them.
The Vet said not to take FALCON out on the streets until his next vaccinations are done in 3 weeks time on 21st may. He gave him a worming tablet, the second to be taken in 10 days time, he said if daorhea first day of first tablet then the pup had worms, but this was not the case. Vet also provided anti-parasite liquid to be put down back spine length on skin that lasts 3 months. FEJA also had the same but different dosage worming tablets and anti-parasite liquid. VIRBAC DUOWIN CONTACT petit chien <7,5 kilos - for FALCON - well at the time I did not take him to the vet to be weighed so did not think he could be 9,6 kilos !!! lol !!! for parasite liquid name and ?( to be filled in later name) for worming tablets. The worming of FALCON was recorded on a special page in his passport with a sticker of product the vet added against the date. Seems a good idea to do this i think.
I talked about FEJA allergy to SCALIBOR anti parasite collar last year in FRANCE and so vet said try the liquid in the morning so that if a reaction he is available to get back to with FEJA as soon as it happens. I said she also seemed as a puppy to SCRATCH a great deal in reaction to FRONTLINE liquids put on one place on the back of her neck with pipettes. This product is different so hoping it does not irritate her skin or the puppy.
So - RAW FOOD diet going well - FEJA being normally a DIFFICULT EATER even though she did eat 4 tins of SCIENCE PLAN HILLS dog food for adult dogs on the journey...is eating the raw chicken - that i have to cut for her more than i do for FALCON the puppy age 10 weeks old I add.
FEE NOIRE may be mated to FALCON FATHER HECTIC HERTZ OF DARK BRIGHTNESS in a few years time following sight of this magnificent male dog at Inga Nikonoviciute the BREEDER DAKOTA - he is a MULTI CHAMPIO|N with VERY BLACK EYES just like his son FALCON has ! FEE NOIRE has DARK BROWN EYES i realised looking at these other dogs ! what JET BLACK DOGS EN MASSE IN THE SUNLIGHT !!! wonderful sight ! so FAST ! ELEGANT ! SHARP FACES ! with SUCH DARK COAL EYES of great depth ! NADINE ! how could i ramble so long like this without saying...what a MARVELLOUS BITCH NADINE IS ! NADINE BLACK Z KOVARNY ! young dog - breeder Inga Nikonoviciute said she was looking terrible after pups ! i could not have said this was a dog that had just had pups ! her coat looked great to me ! and all the dogs....were attentive to the ALPHA INGA ! lol ! o ooh si, gentle voice and movements....not like me ranting and whacking occasionally ferret FEE NOIRE for jumping all over me barking for food at lunch etc. as usual....Inga said...FEJA is the boss in our relationship ! i am certainly not in charge ! LOL ! well that opinion is UNIVERSAL i say ! and Inga said...it could be more risky to allow a MALE dog to have such freedom of control over me as FEJA has...as males are more stubborn and aggressive if allowed to dominate.
Uh oh ! well it all went horribly wrong as soon as FALCON GROWLED SEVERAL TIMES MENACINGLY at me for trying to take his ball off him ! but !!!! he ADORES ME ! sleeps with his head of my foot ! comes between my legs when FEJA bites him around the neck too hard ! yes i do occasionally say DOUCEMENT ! gently ! to FEJA when she gets over excited in play with him. I have 2 hands, so it is EASY to STROKE 2 DOGS AT THE SAME TIME ! so there need be NO JEALOUSY or competition for my attention...my intention, objective, and it seems to be the case. FEJA was never irritated if I fussed over other dogs I add. She knows I always fuss her also afterwards. And so i often now fuss 2 dogs with 1 hand each and both seem very happy about that and do not make a fuss to come to me if i am fussing 1 dog and not the other one.
I think, in summary, FALCON is CALMER than FEE NOIRE. Less inclined to charge off at full speed in circles, he seems happy to run and pounce around more. He runs, but at a steady pace and slows down in advance of a stop. Sits with head up high looking forwards and around for long minutes alone often quite contented. In sort of guard dog mode. Watching. He iccopying immediately any barking done of FEJA I add. Looks to see what it is about, then advances alongside her and does the same. Fearless. Not even the VACCUM CLEANER that ALWAYS upsets and makes FEE NOIRE uneasy upsets FALCON ! and he has from what little i have seen...quite a STRONG TEMPER ! o ooh ja ! he SHOWS HIS TEETH IN MENACE easily to FEE NOIRE in particular for provocation and defence of himself ! and certainly i was surprised by his low nasty sounding GROWLS when i was approaching his ball ! he did not even raise his head to LOOK at me when growling ! why it felt menacing ! maybe he thought i was another PUPPY !!! LOL !!! my dogs always seem to think i am ? the DELTA DOG OF THE PACK ! to run over ! push over ! play with ! bark at ! etc. !
I do like being a DELTA ! my dogs seem to use their own INTELLIGENCE and INITIATIVE a great deal when dealing with me...bark to say when they want to eat, play or go out etc...as they seem to understand i am too stupid to plan or think of such things by myself ! FALCON worked out fast early morning he needed to look hard and jump looking for FOOD to make me react and get him some !
Such a shame FEE NOIRE has hurt paws. She is limping due to the pain of course. Front right paw the deepest cut with stitches, but back paws have less deep cuts also. Accidents happen. That is part of life. A few weeks of pain and inconvenience only. Could be worse ! much worse ! and FEE NOIRE knows by my attentions to her I am trying to relieve the pain in her paws, licks me when i am bandaging and washing the paws and keeps very still for me. I get irritated, and grumble angrily saying to her what a nuisance this is that she cannot run properly for a while with me, cannot go for walks on streets etc. due to the pain and needing to heal. FEE NOIRE knows however I will not leave her side until she is better except for shopping or quick things i have to do moving around...i say to her....stay put...do not get up and follow me as she always does when i go from one room to another...but even though i tell her to stay and she understands i am coming back from the toilets or whoever soon FEE NOIRE insists on struggling up onto her feet and following me if she sees me going. So i try and get away very very quietly !
FALCON of course ALWAYS follows me also ! i have 2 dogs now as my best friends ! I must admit however, FALCON does DECIDE to return to the doorstep from far down the garden where I go sometimes...he seems to not mind being alone like that as much as FEE NOIRE always has. FALCON does not make a fuss when i then return to him, just looks at me calmly and follows me in or whatever. Interesting, FALCON does not move away from the doorstep. He waits until I return before he wanders off elsewhere. Good that ! reliable dog !

HOW TO PRONOUNCE FALCON !
as in the word FALL ! meaning in USA English AUTUMN ! then KON ! accent on the FALL part of the word ! do NOT say the A as in AT word sound ! it is the A of FALL sound ! FALL - KON ! Now of couser FALCONS are BIRDS OF PREY ! they soar high up in the skies. HUNTERS ! SHARP EYES and FAST to CHARGE AND KILL for food. They are not black, more brown and other coulours. Medium sized birds of prey, not large like eagles, larger than kestrels. VERY SHARP BEAKS on their faces. Well, there was me before coming to Lithuania talking on my BLOG PAGE 10 about BUZZARDS in the skies above the Garonne river, rather vulture looking dark shadows in teh skies, and here I am talking about an elegant FALCON ! the BIRDS OF KINGS for HUNTING ! well FALCON GROENENDAEL BELGIAN SHEPHERD MALE is certainly mnore a MAN CHASER than BALL CHASER from his actitivies in the last 3 days ! he charged around running after running boy Dovydas ! FEE NOIRE of course does not chase like that because she is wating for ? HER BALL ! and has worked out running off means NO BALL THROWS ! so ignores that !
FALCON ! in LITHUANIAN ? is ? SAKALAS ! now I did not ask Inga Nikonoviciute what the FERGUS part of FALCON FERGUS DAKOTA is about...maybe I will ask her soon ! ...UPDATE !!! FERGUS MEANS....Origin: Gaelic Meaning: Man of strength !!! that is good to know...she got it from some dogname website list...I think of SARAH FERGUSON princess when i see FERGUS ! not a pleasant association that ! so ? I ignore FERGUS name and say FALCON ! that is QUITE LONG ENOUGH for a dog ! 2 syllables is fine !
FEE NOIRE ! and FALCON !
Now. I have accordion to repair, laptops too, and then learn to play it.
uh oh ! news from NEWMAN MORGAN...with the RUSSIAN for FALCON ! this oaff is off to learn RUSSIAN in GB ! well God help the Russians i say to that ! lol ! i quote his email..."Raw nosh is natural for animals because in their original environment they would not be able to wander down to the local supermarket or pets at home store and buy packets of biscuits and tins of food. But my cousin in California's husband is a vetinary surgeon and he has always advised that for canines (dogs) and felines (cats) of the domestic variety you need to watch for worms if feeding a diet of predominantely raw food. So good idea to conduct a regular inspection of Falcon's and Fee Noire's logs to see if they have worms. You can buy worm treatment pills for domestic pets in any supermarket or stores such as pets at home.Сапсан is Falcon in Russian, it is written as 'Sapsan' in Roman letters. Have decided that once one masters the bloody Cyrillic alphabet Russian becomes altogether a lot easier to understand, especially modern words, not that Сапсан is a modern word . I have applied to Fair Isaac University for funding to do a Russian language course in 2011/12 academic year to do a part time (vocational) course in Russian attached to one of the dozen or so Universities or Colleges in Birmingham / Solihull / Coventry / Wolverhampton or attached to either Oxford Uni, Oxford Brookes Uni or Oxford & Cherwell Valley College. Сапсан is a word / name that is coming to prominence in Russia as it is the brand name given to the ICE trains currently being delivered to Russian Railways from Siemens of Munich. Russia is in the early stages of builidng a coast 2 coast TGV network and the Сапсан trains are beginning to empty the airplanes and highways between Moscow and St. Petersburg and Moscow and Nizhny Novgorod. You need to watch those paws on Fee Noire over the coming days to make sure they do not turn septic. It is incredibly difficult to 'nurse' an animal with open wounds although animal instinct does assist in most cases. We had local elections across the UK yesterday and early indications of results are that the Liberal Democrats have been wiped out :-)) It was their U-turn on student tuition fees that has killed them. Most English Unis will increase their annual fee from £3,200 to £9,000 from the 2012/13 academic year for students born in England but will remain free for students born in Scotland, and will remain at £3,200 for students born in Wales. The Education Maintenance Allowance, which is £30 per week and given to students in England aged 16 to 18 who come from poorer families and provides for them to stay in education is also being abolished at the same time. They reckon that as many as 70% of students attending colleges in the poorer areas of the UK will be forced to give up education. London South Bank Uni is the least performing Uni in the UK apparently, followed by Thames Valley Uni with its campuses in Slough, West London and Reading (not to be confused with Reading University which remains a star perfomer). TVU is to rebrand as University of West London and beef up its academic ability. The Lib Dem wipe out is so bad that their leader, and our Deputy Prime Minister, Nick Clegg, may well not survive. Newman A. Morgan".....
and on page 10 of my BLOG...is evidence...of what i was focused on, watching in the skies, BIRDS OF PREY ! but these are not as ELEGANT as a FALCON ! see page 10 of my BLOG to see more !
amd FEE NOIRE offers her toys to pull to Falcon...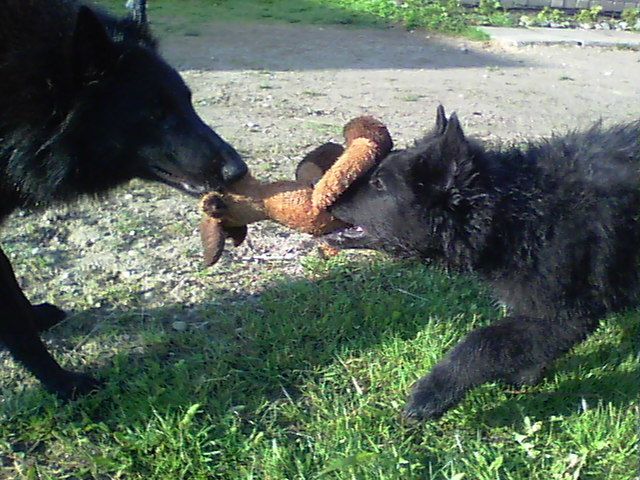 and they sleep well together heads next to each other often...
pourquoi un autre chien ? pourqiuoi un chiot ? bonnes questions a se poser, me poser.
Ca faisait depuis toujours que j'ai eu FEE NOIRE que je pensait en la regardant approcher pour jouer avec autres chiens que je me disait, ca lui manque, compagnie et activities entre chiens pour s'amuser. Et bien j'ai failli prendre une HUSKIE un jour en passant a la SPA de Toulouse, qui venait juste d'arriver avec son maitre qui vivait en appartement et trouvait la chienne environs 1 an d'age s'ennuyait et il ne pouvait pas lui accorder mieux. Gentille chienne, jolie, blanche de couleur. Mais FEE NOIRE qui aime mormalement contact avec chiens, etait de mauvaise humeur de suite avec cette belle chienne gentille...FEE faisait villaines grimaces, kniaques. Alors apres 10 minutes et plusieurs essaies je me suis dite non, pas celle la. Comme les humains, parfois on deteste une autre personne ou chien a 1ere vue ou contacte comme ca. FEE n'avait pas encore 1 an a ce moment, pas son CANT ni CSAU en plus. Jeune de mentality. Pas bien essayer de gerer 2 jeunes chiens comme ca me disait les Calleys.
Et bien apres ca, je tombe sur le site web du club bergers belges en France en cherchant quelque informations sur radios hanches...qui sont pas utiles...et je vois une nouvelle page pour les chiens de race belge en detresse ! et beh ! un chien plus adulte que chiot m'avait toujours interessee auparavant ! mais voila, etant donnee ces gens la sont les memes que sur les forums de chiens belges si hostiles et arrogants a mon egard, pas de bonnes relations a trouver la. Alors je laisse ca apres experience de passer mon temps a essayer d'aider un echec replacement de CARTEL sur leur site. Je n'ai pas encore repondu a l'americaine qui avait dit elle le prendrait car avait experience de chiens difficiles comme ca et un entraineur aussi.
Bon. Je ne cherchait pas activement un autre chien il faut dire quand meme. Et je me disait, j'aimerait voir plus de chiens surtout en Autriche pour trouver une lignee tres differente a FEE NOIRE pour eviter consangain, un de mes horreurs ca. Alors il faisait chaud, on etait dans un champs d'herbe a s'amuser avec la balle FEE et moi et je pensait a elevage de Groenendaels en Lituanie d'un coup en pensant que j'aimerai partir labas pour etee agreeable moins horriblement chaud qu'en France. Je fais sms...a DAKOTA eleveuse...et elle me repond fait email. Alors en rentrant je regarde son site web et alors ! je vois une portee avec 2 chiens encore disponibles ! mince...males...je pensait prendre une autre femellle mais envie quand meme d'avoir un male pour avoir un couple de la race... La Inga ne m'accordait pas trop sa confiance avec ma demande quand meme sur email...elle devait se dire...si loin, pas trop serieux ca. Elle m'ecrit qu'elle me trouve un peu fo-folle comme beaucoup de proprietaires cependant de chiens belges. Je reponds pas du tout et il faut lui repondre toute sorte d'informations a mon egard pour qu'elle decide si elle veut me vendre un chiot. Enfin apres un echec essaie de faire accompte pour reserver un chiot car la poste en France ne fait pas transfers aux comptes en Lituanie, Inga me fait confiance que j'arrive dans quelques jours...c'est presque 3000 kilometres de Toulouse a Lituanie ou elle est a Ignalina. Jolie region a cotee de Utena region ou sont mes terres et lac ca. Je connais alors. Parc national protegee avec LADA colline avec vue de 7 lacs autour.
Et bien, nous voila bien parti et le voyage accompli je me decide pour FALCON plutot que FERRARI ne pas que je peux dire il y avait grande chose a choisir entre les 2, tout les 2 tres gentils et beaux a mes yeux et contact. mais FALCON m'est arrive en 1er devant son frere et voila comme ca c'est decidee. Je ne suis pas tres compliquee moi. Un chiot est un chiot a mon avis ! FALCON etait un peu plus large que son frere. Visage un peu plus fort moins fin. Mais ils sont jeunes, alors pas possible de dire comment ils seront plus tard pour moi. FALCON est adorable bien sure. Il dort sur son dos, contre mon pied souvent. Viens calmement a moi souvent pou s'assoir. Il aime bien etre assis tete haute et regarder autour de lui. Il fait villain si FEE NOIRE le bouscule ou plutot mord le cou trop fortement...grogne et attaque avec aboies. Je parles quelques mots parfois a FEE pour le lacher quand elle fait ca de trop.
Les 2 chiens se recherchent, courent apres. Suivent. Se pistent. le 3eme jour FEE a pris interet fort a FALCON apres avoir pas tellement pris interet pour 2 jours simplement le regarder faire. 1 grognement fait a FALCON pour s'approcher quand FEE mangeait du poulet cru...et 1 grognement de FALCON quand FEE s'est approchee d'un baton qu'il jouait avec...mais depuis...ils mangent et boivent sans gene ensembles ! et oui ce matin SAmedi le 7 mai 2011 ils buvaient meme du meme bol en meme temps. Je n'ai pas eu a faire plus que quelques mots pour arreter aggressions comme ca il faut dire. A FEE bien sure, FALCON ne comprends pas NON encore mais je le lui dit aussi maintenant quand je veut qu'il arrete quelque chose. et je lui dis les memes mots que FEE comme C'EST BIEN, CA VA, MACHINE pour bruits, ATTENDS, CHERCHE BALLE, BATON, DODO, MANGER....il apprendra vite je pense. Il regarde quand je les dis a FEE NOIRE. FALCON n'a pas courru de suite apres la balle quand lancee comme avait fait FEE NOIRE apres etre entree chez son nouveau domicile 5 minutes meme pas. Il a ignoree la balle tout a fait les 1ers essaies fait quand il est rentree ailleurs que son elevage. Alors je n'ai pas insistee plus que jeter 2 fois la balle et puis laisser tomber. Ensuite, en jouant avec les peluches etc parterre pour lui, il attrape une balle et s'amuser tout seul a courrir apres et macher..alors je le suis pour la prendre....oh la ! fou rire ! il me GROGNE ! pas question de me laisser prendre la balle ! je laisse tomber alors...mais disons 1 heure plus tard mon jeune cousin ou neuveu age 12 ans se mets a jeter un peu la balle et FALCON va la chercher et puis semble la ramener meme pour etre relancee....et puis depuis il cours apres si on jete une balle...mais ne la raporte pas toujours il faut dire encore....mais il m'apporte autres jouets pour inititier jeu entre moi et lui, batons, torchons a tirer. Il fait comme un CHAT pour se cramponer et ensuite se lancer sur objets ou courrir apres FEE NOIRE. Il essaie ENTERRER son manger pas fini, ailleurs que proche de son bol, et meme la BALLE il a enterree dehors ! il a creusee la terre et puis a mis la balle et puis la couverte ! Il aboie a FEE NOIRE si agacee, il HURLES comme un LOUP si on lui ferme la porte et part...mais on le retouve endormie au retour il faut dire et ne pas stressee d'etre laissee seul un peu. Il aboie pour attention, et aboie en retour aux aboies des autres chiens qu'il entends ou voie aboyant proche de lui.
Il semble copier FEE NOIRE quand elle fait ses aboies de GARDE et en generale il regarde ce qu'elle regarde et avance a son cotee pour faire pareille. Il semble REVER car il fait petits aboies et gemits pendant qu'il dort aussi. Interessant, le son hurlement pendant son sommeil semble commun plutot qu'aboies. FEE quand petit chiot faisait petits aboies ne jamais hurlements du tout pendant qu'elle dormait comme ca. Ca lui a passee maintenant adulte sauf parfois des petits sons. Ca doit rever les chiens, j'ai lu dans magazine les CHATS revent plus meme que les humains ! beaucoup ! ca alors ! et ca dort 18 heures par jour un chat ! en revant ! fou rire ca alors hein ! Apres disons 1 heure d'activity, FALCON et meme FEE NOIRE est content de dormir 1 heure au moins apres ca.
Le matin, FALCON est TRES MATINAL ! oh la oui ! alors que FEE NOIRE a son age etait PAS DU TOUT MATINALE ! a 5 heures le matin le FALCON cherche a MANGER ! et FEE NOIRE s'y mets aussi maintenant. FEE NOIRE avant ca pouvait facilement dormir jusqu'a 11 heures du matin apres disons moins d'une heures d'activity quand les humains se levaient. FEE adore les SOIREES plutot. Adore aller dehors faire patrouilles toute eveillee surveillante meme. Elle est tres gardienne le soir il faut dire. et elle cherche a faire patrouilles toute seule dehors souvent et rester dehors pister assise alerte. FALCON comme etait FEE NOIRE quand chiot ne semble pas aimer le sombre de la nuit ... il se mets proche de moi le soir dehors n'aventure pas plus loin mais regarde FEE.
et le 7 mai 2011...FEE NOIRE FAIT UNE TRES TRES GRANDE MUE ! DENSE POILS DE LAINE COULEUR PLUTOT GRISE SORTENT PAR BOUCHE DU CHIOT EN JOUANT ET AVEC PEIGNES SPECIAUX QUI DEMELENT TOURNENT SANS FAIRE MAL EN TIRANT ACHAT SUR POLYTRANS ET BROSSE MAILLES FINES SOUPLES POUR FINIR !!! CA VOLE PARTOUT DANS LE JARDIN ! FEE NOIRE IS MOUTING ! HER !ST REAL BIG SHEDDING OF COAT FOR SUMMER ! MAY 7th 2011
The falcon is a symbol of liberty, freedom, and victory. Therefore, it also symbolizes hope to all those who are in bondage whether moral, emotional, or spiritual.
In Christianity, wild falcons represents the unconverted Gentile, as well as sinful thoughts and deeds. The tamed bird symbolizes the Christian convert with his lofty thoughts, hopes, and aspirations. In early Egyptian hieroglyphs the falcon represented the word for "god". It was associated with sky deities, who may have had falcons' heads. In early dynasties, the king's ascension was known as the "Flight of the Falcon". A human-headed falcon was a symbol of the human soul. The falcon helped cure the soul and escorted the soul back to the world of souls.
The sport of hunting with falcons was associated with nobility in Europe, Japan, and China, where falcons symbolized keen vision, boldness, and swiftness.
Renaissance printers used the logo of a hooded falcon along with the words "Post tenebras spero lucem" (After darkness I hope for light, Apres les Tenebres, j'espere la lumiere).
Le FAUCON est un symbol de LIBERTE et VICTOIRE pour ceux qui sont prisoniers d'esprit. Le Symbol deL'AME humaine qui guerri l'ame pour le ramenerau monde des AMES. AVEC L'AIDE D'UNE FEE NOIRE ! Wihe the help of BLACK FAIRY ! TEAMWORK MATTERS ! divided we fall...united we stand.
....................................
Bon, Ok, all these NAMES for dogs, chiens is a fantastical matter...FALCON FERGUS DAKOTA ! so...alors...some associations more besides FALCON !....
Tony Maddox borin BIRMINGHAM GB wrote a children's book called FERGUS THE FARMYARD DOG...and...
Fergus or Feargus is a popular Irish, Manx and Scottish given name. It is both the Old Irish spelling and the anglicised form of the modern Fearghus or Fearghas, meaning "man-strength" or "virility".[1] The name Fergus was a royal name amongst the Celts in Ireland and the Picts. Although a relatively rare name, it is still very popular among the Scottish nobility and gentry. No fewer than three current Clan Chiefs are named Fergus. FERGUS 1 = The first king of Scotland 5th century.
As a surname, Mac Fearhgais was Anglicised into Ferguson/Fergusson and this surname spread across Scotland but particularly in Ayrshire and Perthshire. The surnames Ferguson and Kerruish (from the genetive Mac Fhearghais) derive from it. In Ireland, the Ferris family of County Kerry derives its surname from the patronymic Ó Fearghusa.
Gwrgan Fawr (meaning Gwrgan the Great; also, in Latin, Gurgantius) (died c. 645) was a king of Ergyng, a south-east Welsh kingdom of the early medieval period.
He was the son of Cynfyn and rightful heir to the Ergyng throne which, however, was initially usurped. Gwrgan later features as king in charters in the Book of Llandaff associated with Bishops Oudoceus and Iunapeius.
Another Gwrgan is the Gwrgan Frych ('the Freckled') who appears in the Life of Saint CADOG ruling further west. Cadog died some years earlier, but the association may have really been with the saint's successors.
When Gwrgan died, the throne of Ergyng was inherited, not by his sons Caradog and Morgan, but by his maternal grandson, Athrwys.
Dakota is a given name derived from the name of two states in the United States: North Dakota or South Dakota, or from the name of an indigenous native american tribe. The name is translated to mean "friend", "friendly" or "allies" in the Yankton-Yanktonai and Santee dialects of the Lakota Sioux language
Mon DIEU ! what aMOUTHFUL OF NAMES ! CELTS EVEN ! ca alors ! on apprends hein !
FALCON FERGUS DAKOTA AGE 2 MOIS ! 2 MONTHS OLD !
Fin de la 1ere semaine de la vie du nouveau chiot Berger Belge Groenendael FALCON...enfin 6 jours passees chez ma famille avec 2 enfants 1 de 12 ans garcon et 1 petite fille age 5 ans.ecrit lundi soir le 7 mai 2011

Tiens pendant que j'ecrit FALCON fait petit aboie dans son sommeil ! FEE NOIRE est dehors au jardin faisant maintes CHERCHES BALLES pour la petite fille et son amie a qui FEE a quand meme fait aboies a 1ere vue mais s'est tait sur ordre. Je n'aime pas laisse FEE ou n'importe chien seul avec enfants quand meme...je les regarde de la fenetre pendant que j'ecrit cela....et j'ecoute pour savoir si tout va bien. Tiens, FALCON s'est reveille et il est venu sur mon pied...je le souleve sur mes genoux...et il se rendort apres m'avoir lechee. Il est tres calin ! Je le caresse et l'arrange pour liberer mes mains pour le clavier !!! Il cours apres FEE NOIRE souvent...il aime cependant reniffler et se balader tout seul pas trop loin faire petit creusements dans la terre...secouer sa tete avec une pomme de terre qu'il machouille....quand FEE NOIRE a fait sa DANSE DES CANARDS en aboyant sur moi avec sauts...il m'a attrapee par le pantallon lui en tirant et puis s'est lancee a faire face a FEE en aboyant devant elle courant quand elle courait apres elle. FEE l'ignorait bien sure, ce qu'elle obsedait etait SA BALLE ! et il s'est approchee tout seul de la cour enclos de la Laika pour repondre avec sauts et aboies a ses aboies...plus confiant de faire ca nez meme au grillage apres quelques jours...la plupart du temps il ignore les aboies des autres chiens...il y en a plein aux elentours. Si FEE NOIRE se met a aboyer et faire la gardienne FALCON fait tres vite la meme chose. Il a meme aujourd'hui regardee un homme a disons 50 metres dans la rue dehors et a grognee et aboyee en avancant un peu au portail ! surprenant ca pour un petit chiot ! Il grogne assez facilement il faut dire si FEE le bouscule...et s'ennerve meme en furie aggressive montrant ses dents avec grimace et kniacs...il lui grogne aussi si elle va lui marcher dessus quand il etait couchee a mon cotee sur le divan...FEE l'a evitee et s'est mise a mon autre cotee...tout les deux dorment couchees allongees...ils ne dorment pas toujours proches ensembles...mais souvent si...la nuit ils semblent bien aimer se coucher proches ensembles.
Falcon semble tres content des enfants. Il les approche joyeux pour faire la fete doucement...il ne fait pas de grandes vitesses il faut dire meme quand il cour ! ca ressemble un petit elephant qui ambule en courrant ! corps assez lourd et tres chiot encore pour ca ! FEE NOIRE etait toujours plus mince et je pense plus developee pour equilibre sur ses jambes a meme age 9 semaines quand je l'ai prise. On oublie beaucoup il faut dire quand meme.
Falcon adore taquinner FEE avec une balle ou objet dans sa geule en la secouant et sautant d'un cotee a l'autre...FEE ne s'interesse pas tellement a ca...mais elle aime ou lui courrir apres ou qu'il lui cour apres ! elle cour en cercles en le taquinant ! le pauvre petit elephant a du mal a suivre la rapiette ! FEE est si agile et vite sur ses pattes ! et elle fait l'exocet tout le temps quand elle bouge ! tout est un demarrage d'exocet avec FEE NOIRE !
Je ne vais pas refaire erreurs que j'ai fait encore cette 1ere semaine a propos MANGER DES CHIENS ! ayant gatee FEE NOIRE avec friandises et manger de la table et mon assiette...elle est difficile a faire manger autrement...et cette semaine je me suis rendue compte que FALCON qui est plus GOURMAND en tant que chiot qu'etait FEE NOIRE a bien appreciee manger de la table des humains et quand je lui ai presentee le manger chien poulet cru pour son repas...il a pas pris interet ! oh la non ! il regardait la table, ou on prepare le manger...je me suis dite..ca y est ! et je l'ai fait manger DE MA MAIN avec FEE NOIRE qui mangeait de l'autre main la viande cru en les encourageant de manger !!! oooh lala ! je ne veux pas continuer comme ca ! un nouveau chien DIFFICILE A MANGER ! Il faut dire...apres avoir mangee des croquettes qui etaient dans un bol parterre...FALCON s'est desinteressee vite de ca...il mange un peu n'importe quoi mais les croquettes ne l'interessent pas du tout j'ai remarquee. Dommage, j'ai eu un moment d'espoir quand je l'ai vu manger assez bien les croquettes...je me suis dite...si seulement FEE NOIRE voie ca elle pourrait le copier ! mais non, ca n'a pas duree. Oh la Inga eleveuse serait pas contente de savoir j'ai fait ca...elle m'a dit PAS DE VARIETE DE MANGER POUR CHIENS ! ca trouble leur digestion ! et beh...je me suis dite agacant ca...c'est utile qu'un chien mange n'importe quoi quand on a pas envie de trouver exactement la meme chose pour son manger ! et je me suis coupee le doigt en coupant le poulet cru ! qui m'a tres ennervee ! je n'aime pas faire la cuisine moi ! alors passer du temps chaque jour a couper viande ne ne plait pas comme idee ni pratique ! Au boucher a Beauzelle en France j'avais demandee si ils pouvaient me fournir viande cru coupees...pour chiens...mais non, apart OS les bouchers ne font pas ca de nos jours. Les gens sont tous encouragees a faire manger CROQUETTES PRATIQUES sans gout et sec a leurs chiens qui ont que 20 pourcent de viande contenu ! ouff. Et beh mieux faire du riz et viande cru si on arrive a trouver packets de morceaux coupees. Je n'aime pas avoir carcasses de poulets trainees partout a l'interieur quand meme ! FEE NOIRE apportait ca meme dans mon LIT quand chiot je me souviens quand elle ne mangeait pas tout le poulet !
Bien que plein de monde voulant dire environs 4 personnes dans la maison a la fois et invitees voisins amis qui arrivent passer plusieurs heures ici...FALCON semble tres bien me rechercher et identifier comme sa maitresse je suis contente de dire ! ca me surprends un peu ca il faut dire. FEE NOIRE bien sure n'a pas eu ce challenge quand chiot...j'etais toujours SEULE sans VISITES DU TOUT de personne a Toulouse...sauf ami Ian qui arrivait le soir que FEE aimait mais n'a jamais pris comme objet autre que mouton humain a surveiller et lui faire la fete car on prenait le cafee au bar les matins souvent comme habitude que FEE savait voulait dire SORTIE ! et CHERCHES BALLES ENSUITE ! alors FEE NOIRE etait HOSTILE quand j'ai eu 2 fois frappes a la porte et gens etrangers a la porte ou dedans quelques minutes pour simples echanges courtes et ces gens ont eu aucun interet a FEE alors elle a ressenti ca, c'etait simplement quelques discussions administratives visites brefs. Alors FALCON est ENTOUREE de gens tout le temps ! il connait bruits et mouvements vifs d'enfants ... tele...musique...aboies de chiens...claquements de portes...tout ces mouvements, bruits, presences que FEE NOIRE n'ai pas eu comme ca quand chiot ! c'etait bien pour ca que je suis sortie aux BARS AVEC FEE NOIRE pour la SOCIALISER comme ca...mais je pense moi avoir du monde et agitations a la maison avec gens enfants etc socialise un chiot meme mieux...car FEE NOIRE a eu des aggressions parfois aux bars de gens pas trop malins ou agreables qu'elle n'a pas compris et a mal pris bien sure...surtout quand on lui faisait gestes aggressives soi disant en jeu...sans lui avoir expliquee que c'etait un jeu FEE NOIRE l'a mal pris et etait mefiante alors de gestes comme ca bien que fiable a rester proche de moi aux bars et etre amicale avec gens auquels je lui disait de faire la fete ou approcher pour caresses. Il y a eu des gens interessees a lui faire caresses aux bars assez souvent...pas tous les jours ou toutes les visites...mais assez pour comme je dis la SOCIALISER et lui donner plaisir d'attention des autres humains agreables.
Et oui, je me souviens les conards arrogants sur les forums des Bergers Belges en France me critiquer quand j'ai dit je la sort pour la socialiser aux bars au debut quand chiot...mais COMMENT FAIRE AUTREMENT je repondait ! COMMENT SOCIALISER UN CHIOT SI ON NE VOIT PERSONNE CHEZ SOI ? et beh j'en ai vu des chiens NON SOCIALES des gens en appartements au Golf labas ! ils ne socialisent pas ! ni avec autres chiens ou humains ! alors ils ont PEUR et AGGRESSENT vite si on les approche avec aboies surtout et plus ! le chiot Weimarrer qui est adulte maintenant a la TROUILLE quand il voit FEE sur le chemin a la sortie du complex ! il fait villain de suite ! alors ! pas socialisee ce pauvre chien ! Un chien, qui aboie ou saute aggressivement envrers un autre chien n'est PAS un CHIEN DOMINANT du tout...c'est un chien PEUREUX alors aggressive tout simplement. Un chien DOMINANT a PAS BESOIN de faire villain pour ne rien comme ca, il GERE avec GESTES DE CALMEMENT les autres chiens nerveux...c'est une mauvaise conception que les gens ont de dire MON CHIEN EST DOMINANT quand il se comporte tout simpelment mal et montre sa PEUR par son aggression...il est tout a fait le contraire...un trouillard. Si on est PAS INVITEE CHEZ LES AUTRES ? il n'y a QUE LES BARS pour faire ca ! je viens de lire que les parcs publics sont TRES MAUVAIS pour introduire chiots pour socialisation faute de possibilities d'aggressions par autres chiens ! et oui ! c'est arrivee au parc de Beauzelle a fee age 9 semaines ca ! et parfois les gens a qui je parles dans le rue de leurs chiens disent pareilles ! ils ont eu mauvaises expereiences en parcs publics avec chiens aggressives envers leurs chiots ! ca alors hein ! ca traumatise un chiot ! et les proprietaires de chiens adultes sont CONS de ne pas maitriser mieux leurs chiens qui courrent trop excitees pour se defouler sur autres chiens ! c'est la FRUSTRATION qui les rends comme ca ! ne pas asez de libertee sans laisse...car il parait il y a des lois que les chiens doivent etre en laisses en parcs publics...et beh LES CHIENS AVEC MAUVAIS CONTROLS DES MAITRES NE SONT PAS EN LAISSE je dis a ca ! ou si sur laisse BONDISSENT comme des boeufs quand meme en aboyant hors control des maitres !
Alors je suis contente, qu'apres evidence de tres bon elevage pendant enfance par Inga eleveuse de mon chiot FALCON je le socialise tres bien sans les dangers que FEE NOIRE a parcourru faute de manque d'alternatives. Et je suis contente que FEE NOIRE a eu experiences qui la rend mefiante des gens qui sentent ALCOHOL surtout...car avec ca les gens aggisent plus cons que normales et sont dangeureux avec leurs idees cons de jeux avec chiens de facons aggressives. Je ne sais pas encore comment sera nature de FALCON eventuellement, mais FEE NOIRE est TRES PRETE a rendre aggression si elle le resens je peux dire apres ses experiences...je ne pense pas qu;elle serait aussi vife pour ca si elle n'avait pas eu quelques affronts desagreables. C'est tres difficile a enlever ca de la memoire d'un chien il faut dire a mon avis.
FALCON semble avoir un plus de CONFIANCE qu'avait FEE NOIRE a son age...et surtout moins vif...mais il semble aussi avoir ce que je terme une colere ... et il attaque avec ses petites pattes et visage crispee montrant ses dents en furie quand il en a marre ! sur FEE si elle fait trop de bousculades par exemple...bien qu'il est malin et trouve cachettes pour l'eviter et vient a moi entre mes jambes car il sait je met ma main devant FEE pour l'arreter de l'approcher. FEE NOIRE a toujours eu une colere il faut dire qui se montre en reaction vite et bref - mais dangeureux - et il faut respecter a mon avis les besoins des chiens pour repos et manger surtout pour ne pas les agacer de trop. FEE ne supporte par exemple pas d'etre pousee pour aller quelque part...exemple la faire descendre du divan par force n'est pas une bonne idee...il faut lui parler et demander de descendre...si on la pousse...surtout une autre personne que moi il faut dire ... elle peut montrer ses dents en averti et grogner meme ! surtout si fatiguee. Et quand sur laisse, il ne faut pas TIRER fort pour la faire avancer...elle refuse ca...et je ne le fait pas. Si je suis agacee si elle prends plus que quelques secondes ou meme minutes a avancer ou je veux aller...je lui parle mechament et elle m'accorde alors d'avancer ou je veux mais ne pas tres contente il faut dire ! fou rire non ! il faut la feliciter pour avancer dans ces cas la de suite pour lui remonter le morale et ne pas avoir une chienne qui marche tete basse boudeuse !! Bon. FALCON n'a JAMAIS encore eu..COLLIER OU LAISSE ! age 10 semaines ! et beh ? FEE NOIRE non plus a son age ! je DETESTE CA ! il VIENDRA A MOI SANS CA ! comme a fait FEE NOIRE quand chiot ! on a le temps pour ca. Et beh en Lituanie, la loi dit non seulement sur laisse mais avec MUSULIERE pour TOUS LES CHIENS EN PUBLICS ! et beh ! PAS QUESTION DE CA ! je ne souviens annee derniere a KAUNAS centre marcher devant la gendarmerie avec gendarmes dehors qui regardaient FEE NOIRE marcher sans laisse avec moi et qui l'ont admirees ! de toute facon...je ne comprends PAS LITUANIEN alors ne pas la peine de me parler de lois !! fou rire non ! AS NE SURPRANTU ! veux dire JE NE COMPRENDS PAS ! tres tres utile cette phrase je pense !
FALCON ne connait pas aggression d'un chien ou humain envers lui - pas encore. Il se mefie sans peur des aboies de la Laika qui bondi partout dans son enclos...mais apres 3 jours il se met devant le grillage pour lui repondre en aboies de chiot...quand aujourd'hui j'ai mal fermee la serrure en rentrant la LAika d'une promenade en laisse PEINIBLE il faut dire...la force d'un BOEUF cette chienne...ca TIRE tellement on peut se casser le bras si on ne fait pas attention ! on ne peut meme pas fumer avec une main en la promenant ! on a besoin des 2 mains et tout son corps pour rester debout ! tres agacant ! ouff. on m'interdit de sortir les Laikas .... cette fois j'ai insistee...et beh contente de retour..mais oui je disait...j'ai MAL FERMEE l'enclos...et alors..HORREUR ! je vois le corps de la Laika pousser et sortir de son enclos !!! elle est TRES INTELLIGENTE pour ca...entre autres choses....mon chiot FALCON a 25 metres seulement...il regarde et fais petits pas pour avancer vers cette chienne qui sortait en furie...oh la merde...je l'attrape vite dans mes bras...mais il faut attraper la Laika...alors avec 1 main j'attrape son harnais et nous voila tous les 3 parterre tirees par sa force...je pose le petit maintenant que j'ai LAika...et on fait Traineau pour revenir a son enclos avec aide qui sort pour m'aider...ouff...et beh elle n'est pas mechante la Laika mais elle ne connait pas ce chiot et il semble l'agacer a travers le grillage quand elle le regarde intensement avec aboies...alors elle n'hesiterai pas a me descendre pour arriver au chiot je sais bien...avec la force d'un bulldozer ! quelle FORCE incroyable cette chienne...race. Falcon etait interessee par tout ce cahut...regardait...et puis s'est balladee ailleurs avec joie. Il est toujours joyeux le petit FALCON il faut dire. Ca fait plaisir ca. Tous les chiens peuvent nous donner de leur bonheur simplement si on les observe et se laisse emporter par leurs activitees amusantes a leurs cotees. Je ne pense pas que LAIAK lui aurait mordu ... mais elle l'aurait bousculee avec sa force de corps et ca pourrait lui faire mal tomber de ca. FEE NOIRE avait age 6 mois l'annee derniere quand LAika et elle jouaient en se bousculant ensembles...age 2 mois c'est beaucoup trop jeune pour tenir contre une Laika comme ca pour Falcon bien sure.
Tiens. Il fait nuit. Dimanche soir, demain Lundi sera 1 semaine que j'ai FALCON chiot. Je viens de le sortir avec mots PEE PEE quand il s'est reveillee et a voulu descendre du divan ou il a dormi a mon cotee pendant quelques heures. FEE est sortie et a fait aboies au gens qui marchaient dans la rue, chemin dehors du jardin...Falcon est venue s'assoir a mon cotee devant la porte d'entree...regardant FEE ... et a fait des aboies aussi...et puis les 2 chiens ont mangees en rentrant le poulet cru qui etait toujours dans un bol parterre. Je devrais pas le laisser toujours je pense, mais je pense que si les chiens ont faim ils peuvent manger quand ils veulent comme ca. Falcon semble avoir sens d'heures de manger plus regulieres il me semble car il semble chercher a manger a 5 ou 6 heures du matin, ensuite a midi environs, et puis disons 10 heures du soir. Avec FEE comme chiot c'etait tellement l'enfer pour la faire mangers il n'y avait pas des habitudes comme ca il faut dire ! Et voila, FEE NOIRE machouille un grand baton sur son nid parterre...FALCON machouille sa peluche Taupe de son elevage...et moi je vais me coucher contente de caresser mes 2 chiens qui semblent heureux et demain ? on fait ballades dans le jardin encore cherches balles avec FEE mais l'arretant de courrir de trop car sa patte doit geurrir des soutures ... difficile ca pour elle qui adore se depenser a fonds...mais elle a Falcon pour jeu et c'est bien ca...ca l;amuse bien. Et beh...Falcon est descendu sur le nid de FEE couverture coussin ...dechire carton ...FEE machouille un os. Les chiens sont ? OCCUPEES ! fou rire oui ! ca aime etre OCCUPE un chien !
ET bien les Pantheres noires de la nuit sont sorties un peu encore ce soir avant de nous coucher...FEE a fait patrouilles...aboies...reponses aux chiens qui aboyaient aux alentours comme normale par ici...dependant des tons des aboies comment elle repondait...Falcon assis a mon cotee tete haute a regarder autour...l'air frais de la nuit..etoiles dans le ciel...ombres...lumieres douces des maisons et rues...et en rentrant disant MAISON mot FEE comprend bien et Falcon commence j'espere aussi a reconnaitre...Falcon POUSSE la porte pour rentrer au salon...Fee attends derierre lui...et oui...interessant ca...FEE n'a jamais compris qu'une porte peut etre pousee pour y passer...elle attends et meme aboie pour qu'on lui ouvre...mais Falcon pousse la porte pour l'ouvrir...peut etre appris a l'elevage ca...ou simplement essaie...et FEE s'installe sur le divan a mon cotee pour dormir...Falcon parterre sur le nid coussin...ca se tasse et prepare a dormir pour la nuit...Falcon fait comme FEE pour gratter et tourner ou il va dormir...Fee faisait beaucoup ca quand petit chiot je me souviens et encore elle tourne et gratte un peu avant de se coucher pour dormir le soir surtout. On est bien, tres bien. Et on a plein a decouvrir ensembles. Oh Falcon a essayee d'approcher la Chevre enceinte dehors aujourd'hui et reniffle avec fort interet les petits lapins assez aggressivement il me semble...FEE n'etait et est toujours pas aggressive envers les lapins...elle tire meme l'herbe qu'ils mangent de leurs bouches avec sa tete dans leurs cages fou rire ! je retire Falcon car il me semble il essayerait de les manger a le voir foncer sur eux avec sa petite tete intensement curieux ! lapins = manger je pense pour Falcon ! fou rire ! Et je l'ai soulevee avant qu'il arrive a la chevre libre quand meme...elle a des cornes...il est trop jeune pour faire face a ca encore quand meme ! Fee leur fait face toujours bien sure ! elle aboie si elles presentent leurs cornes tetes baissees ! et oui...elle connait les chevres ma FEE...et elle sait les gerer. Falcon a le temps encore pour grandir avant d'apprendre ca. On verra comment il s'y prends dans quelques mois. Ca depend comment il devient mature. Je ne force pas des trucs comme ca, je ne trouve rien d'interessant de dire on fait faire des trucs adultes aux jeunes avant leur temps pour ca...l'enfance est a prendre plaisir car ca passe assez vite, etre precoce a desavantages, on doit avoir responsabilty mature pour faire choses adultes a mon avis, ce n'est pas normale ou souhaitable etre en avance pour choses adultes pour les chiots ou enfants humains. FEE connait les dangers de faire face aux chevres, boucs adultes...le bouc est ENORME cette fois et nouveau...presque la taille d'un ane ! tenir et faire face a ca pour le bouger n'est pas facile ! surtout avec les cornes ! et c'est TRES intelligent une chevre...donc dangeureux ! fou rire ! comme les humains ca je dis ! plus on est intelligent...plus on est dangeureux a mon avis dans notre monde. Les pires betises sont faites par les gens intelligents pensant avec orgeuille que puisequ'ils sont si intelligents ils savent ce qui est bien pour tout le monde, les autres !
Je disait au petit garcon avant sa sortie a Klaipeda pour concours concert trompete...dans ma vie...je n'ai pas vraiement jalousie ou voulu ce que les autres avaient plus que moi...ce que je voulais toujours c'est ce que les autres n'ont pas...car je trouve ca plus SPECIALE...unique...rare...avoir toutes les memes choses que les autres ont est ennuyeux meme a mon avis..ca ne rends rien tres interessant ou excitant...mais avoir des choses que peu de gens ont, comme par exemple ? un BERGER BELGE ! ou meme 2 ! et un LAC et des TERRES en VERDURE et PETITES FORETS ! et bien tout ca c'est MANIFIQUE meme ! et voir le coucher et le levee du soleil sur une grande espace ouverte par dessus les champs et le lac...ca c'est extra speciale...ne pas grand monde a ca ! entendre les oiseuz et grenouilles faire un bruit bazarre enorme ! et le vent souffler fort parmi les arbres et la pluie sur son visage ...et le regard de son chien contemplant tout ca aussi et plus car ils ont des sens plus forts que les humains bien sure...et bien c'est magique...on se demande...que sentent ils ? que pensent ils ? pourquoi font ils ca ? et ils sont si OCCUPEES tout le temps a reniffler regarder investiguer toutes les detailles qui semblent les passioner...sans qu'on y comprends pourquoi...mais on les regarde faire..les lapins, chiens etc...car ils ont des objectifs, motives pour tout ce qu'ils font qui ont des sens utiles ... tandis que nous, les humains, nos motives et objectives sont si artificielles, si contrived...fabriquees...selont tant d'influences complexes...et on ne sait pas ce qui nous rends heureux en fin de compte, on chasse des papillons dans nos vies pensant trouver le bonheur en achevant nos objectifs mais on ne sait pas vraiement si ca sera le cas...car quand on a quelque chose, on se lasse de ca, on veut toujours plus, toujours ce qu'on a pas, fortement, nous les humains, il me semble, et ca nous rends ? malheureux.
J'ai 2 chiens, de la meme race. Differents carachters il me semble cependant, tres different caracteres, alors dire les Bergers Belges ont un charactere commun est assez incorrect a mon avis...comme pour toutes les races des etres vivants, humains inclus, on peut etre de la meme famille, la meme race, mais ca ne veut pas dire on est tous pareilles. PAs du tout. Nous sommes tous ? des individus. Et c'est bien comme ca je pense. Etre un peu different, car ca serait ennuyeux si tout etait pareille. Et on aime, ce qu'on trouve unique pour nous. J;aime mes chiens. Ils sont uniques pour moi. Precieux. il n'y a pas autres chiens pareilles a mes chiens au monde. Et leurs differents characteres leur donne personality, valeur, comme pour toute difference entre etres vivants. Et mes 2 chiens m'aiment a moi aussi. JE resens ca. Dans leurs regards, petits gestes, ils veulent de moi, ma compagnie surtout. Et ca me rend tres heureuse ca. Qui ne pourrait pas etre heureux a voir et resentir ca ?
How could one be unhappy giving and receiving affection of such as these ?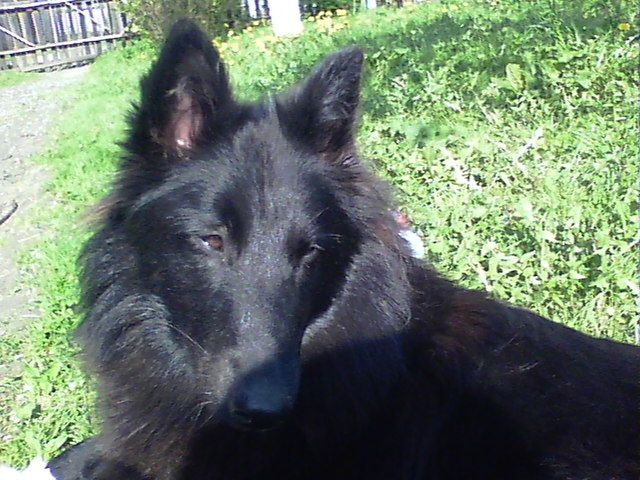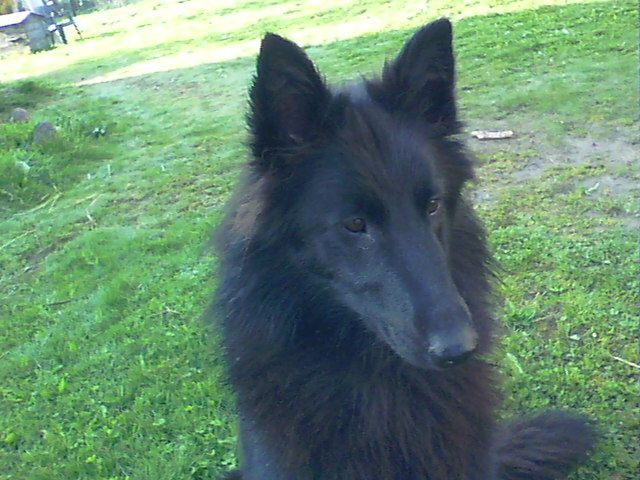 FEE NOIRE dehors au soleil mue presque finie...joli poil d'ete..manifique chienne...

et meme avec pattes coupees et soutures qui font mal...elle joue avec energie en volant...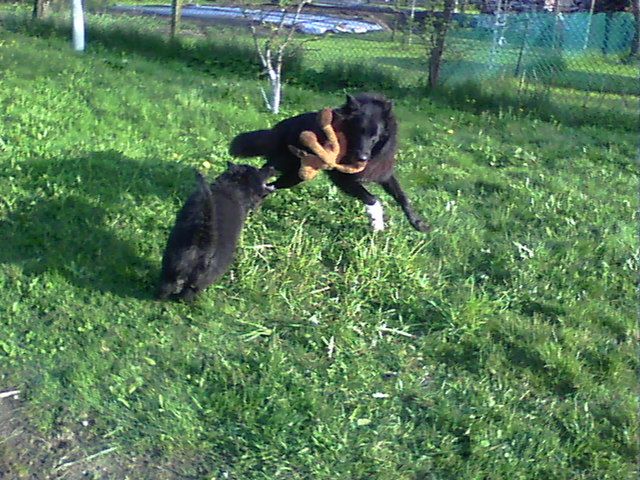 le petit chiot FALCON - FAUCON avec petite fille en salle de Veterinaire...pas stressee...et video avec un tas d'enfants !



Falcon avec enfants...with kids...yesterday 9th may 2011 - 1 week in new home 2 months old puppy...ps eleveuse Inga n'a aucun enfant dans la maison apart ? sa mere ! inga has no kids in the house except ? her mother ! lol ! and below...FEE NOIRE - FEJA ! de la VALLEE DES SORTILEGES et du RIBAUDEAU age 14 mois playing with children Garliava Lietuva ! may 2011
and short video inside house of pup hiding his uneaten raw meat...preuve que chiot cache / enterre viande ne pas mangee... as he tries to do with balls i add.
Diaporama de la fin de la semaine un matin en mai 2011 Garliava, Kaunas, Lietuva

SLIDESHOW OF SOME PICTURES AFTER A WEEK OF PUPPY IN NEW HOME http://www.dakota.aiva.lt/ FALCON and FERRARI FAST DAKOTA BREEDER IN LIETUVA

 LITHUANIA BALTIC SCANDINAVIE ! NORTHERN EUROPE - CENTRAL EVEN ! the 
Geographic Center of Europe according to French Cartographers is just 
outside capital VILNIUS ! LIETUVA ! LITHUANIA ! LITAUEN ! LITUANIE !  
Thoughts after just over 1 week of a new puppy with a 1 year old dog of mine. Pensees apres 1 semain d'un nouveau chiot avec ma chienne adulte age 15 mois. Thursday 12 may 2011.
Today i watched my dogs playing and sleeping. Much of the day was in rest mode, either sleep or just lying in the shade or sitting watching around. It was fairy warm, hot, about 24 degrees. Sunny no wind or showers or rain.
The day as always since the arrival of the new pup and my natural biorythms started around 5am. I stir, move around as i awake and the dogs come to greet me with licks and tails waggin climbing up with paws to the bed excitedly. I respond with affection strokes and fuss over them talking saying bonjour chien-chiens ! I go to the bathroom, do my ablutions, followed by both dogs - oh I let them outside to pee first or let them out after my ablutions then return to the bathroom. I go outside then after say 10 minutes washed and dressed for a smoke and walk about with the dogs who rush around sniffing and start playing with each other biting chasing...but a great deal of grass and ground sniffing first i add. Any joggers or people movements result in loud barks from FEE NOIRE and the puppy joins in following her. I have to calm her often as even if other dogs around are also barking by this time of the morning around this subburban district the loudness disturbs my enjoyment of the early mnorning. Once i acknowledge her vocalisations and say words like it's ok, ca va she returns to sniffing and wandering around the grounds with the puppy also independantly often doing his own thing.
I feed the rabbits and goats, the morning grass and dandelions are heavy wet with dew, not as easy to uproot as later in the day when the ground is drier.
I stopped writing irritated that FEE NOIRE was licking again heavily the bandage around the wound on her paw sigh. It has been a week of intense irritation regarding this wound from a dogbite over in seconds. Feja runs around, gets the bandages soaking wet, the vet visit again said this is not good for healing. She also bites and tries to lick the area. I lose my temper often, it is not easy putting bandages on that do not come off in her running around. Sometimes i have had to rebandage 3 times before midday. Sigh. And of course the irritation of being immobilised unable to go for walks outside in order to allow her paws rest. So grounded. Such is life with a dog with cut paws needing the vet said 2 weeks before stitches come out. Due to Feja being unable to stay alone for any length of time without me, except in the car, and there i only leave her minutes when i shop sometimes and it is not a suitable place to stay for even 1 hour for a dog...it is frustrating period for me as well as her obviously as she wants to exercise as normal even when in pain.
Luckily the new puppy allows her to play tugs of war with toys and run around in little cercles playing with him less strenuous than long ball throws she enjoys so much normally. The pup has not bitten the badly cut paw i add, luckily, as this might cause pain and a reaction of aggression in defense towards him by Feja I did have concerns and keep watch over them together just in case. Another added stress factor therefore.
Feja was terrified at arriving for the checkup at the vet, obviously remembers being put to sleep for the operation, but does not react with aggression towards him handling her at all. Just crampons herself to my chest for comfort keen to get off the table there. Certainly not easy to get her out of the car on arrival lol ! darts from one side of the car to ther other and I have to carry her out and in there !
Sensitive...is the word that comes to mind regarding this I add...Feja is over sensitive in my view to facing a repeat unpleasant exerience place. She was the same after the electric shock received from wires in a field near the farm in France I add...for a few days she was nervous and jittery unwilling even to go close to the farm. It passed, she was back to her playful self again within a few days I add.
Now this brings me to what was on my mind as I settled down to put thoughts into writing. LOL ! it is 11pm and the hamster is out ! she ignores the ladder and just climbs up the cage bars fast to the platform for the food dish....so much for human ideas of ladders to use hey ! she loves the sticky grain bar she hangs onto with paws to chew. Drinks i notice regularly. and loves her wheel. Comes to the bars to sniff my hand. She has grown to full size now I think. Fast. in a month ! less than !
Now back to my issue...point...sensitivity...desensitisation...of dogs when young...socialisation means HABITUATION...to all sorts of common things like noises, experieces of things that can frighten so hinder effective behaviour in public of a dog. I read books on getting Feja, and I found the Culture Clash points regrading this well made...saying critical period to meet all sorts of every day things was between 3 and 5 months...now this is quite late in fact in my view, so no real need to get young pups age 2 months old out on the streets...even if missing out on traffic noises etc. The issue of having bad frights too early or infections from dogshit etc on the streets is greater than the need to face walking on the streets etc early on until vaccinations all done of importance and also the pup is confident of you the new owner. All pups turn to the new owner at once for comfort, but it takes time longer than a few days to gain confidence greater than just comfort needs of the pup. I need my dogs to turn to ME if afraid of anything...not run away...not be afraid of ME in a frightening situation most of all. A huge barking aggressive adult dog rushing at a young pup will frighten it...and one can lose the confidence of the pup in oneself if it is scared and runs away even from you when charged at. Feja did not run when she had a bad experience of 2 big dogs rushing right up to her face teeth barred where I was sitting on the grass in a public parc with her...she growled back...I was right behind her so able to hold her in case she were to run...and put herself in greater danger of being bitten...luckily. Many pups who have such an experience I have heard become aggressive nervous dogs with other dogs for the rst of their lives. It is a great risk therefore to avoid.
Seeing how as this paw bite was due to a moment of conflict between dogs, I have to say Feja is too ready to respond to any pushing of her by other dogs by teeth and snarls at them...that is what caused it...Feja cannot tolerate being rushed into physically by a strange dog...or even known dog...but particularly a strange dog...she snaps and growls to warn then launches an attack if they do not calm down. I often think she would lock into a fight to the death with any BOXER type dog who seem incapable of being CALM enough not to boisterously knock other dogs and people around. I cannot myself STAND that kind of behaviour from dogs I add, so sympathetic to Feja's dislike of it. If Feja, as all dogs, is over excited and a little rough in play with a smaller dog, i say something to her an order to calm down, and she does it, at once. If not, she would get her neck seized by me and scoulded severely in words...I will not tolerate over rough pushing around of other dogs by any dog. If the dog seems annoyed snapping and or wimping in pain from the play, i ORDER the play to calm down..and I don't give a SHIT what the so called expert dog trainers say that it is ok to let dogs be bullied and hurt by other dogs like that without interferring...waiting for them to retaliate...i think that is BULLSHIT a small dog CANNOT retaliate effectively against a huge boxer dog ! the BOXER DOG has to be ordered to calm down and treat the less powerful dog less severely !
Now what are the SOCIALISATION / HABITUATION - did not know there was such a word as HABITUATION i add...sounds good though...of my new pup ?
Well PEOPLE accepting is the most important one for me. I need a dog to be unafraid and not aggressive to other people when in public or close contact with people, strangers, anyone.
Then socially acceptable behaviour with other dogs of course. Other animals ? well difficult as cat chasing etc is instinctive for fun or whatever in dogs as in many predator animals even cats themselves wil charge at other cats. FAR less social with their own kind on the streets than dogs I add !
I need a dog that is not startled or jumpy at sounds of traffic, slamming doors, sudden noises.
I need a dog that is unafraid of entering new buildings, shopping malls, railway stations, tunnels, underground passages, lifts, escalators. Car travel is always a need to get used to whether you like it or not with dogs I add. I cannot say I have ever had a dog who liked or was excited at getting into a car...i have heard and seen others that are...but none of my dogs ever liked getting into cars or the journeys in them. Always delighted to get out of them. Feja was difficult to encourage to get into the car by herself for some weeks I add, I had to lift her in carry her even towards it as she would stop and refuse to advance if she saw we were heading to the car. Once she realised it meant we were going somewhere to play ball and run and swim, she became more accepting of it. And when out, if anything startles or unsettles her, Feja rushes back into the car for her comfort zone I add, and defends it when in it with barking growling, especially at night.
The new pup Falcon also dislikes the car. Has only been in it 2 times I add. Whimpered the 2nd time while I was driving. Settled in say 10 minutes stopped whimpering but was obviously feeling carsick still as he did vomit the 1s